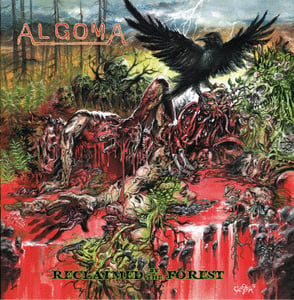 $

10.00
From the dark Canadian woods comes lumbering
forth the heaviest Sludge Doom band from Northern
Ontario! Dead Beat Media is proud to announce the
debut album from AlgomA titled "Reclaimed by the
Forest"
Drenched in despair and depression, AlgomA is a
three-piece band in the vein of Eyehategod, Grief
and Fistula. The noisy trio takes their influence from
Canadian cult bands like Kittens and Shallow North
Dakota. AlgomA is ready to crush you in a wall of
down-tuned guitar, bass and skull-battering drums.
Also features killer cover art by Adam Geyer!
For sound samples, videos, and more info:
WWW.FACEBOOK.COM/ALGOMA62
WWW.TWITTER.COM/ALGOMA62
WWW. YOUTUBE.COM/ALGOMA62
WWW.62NDCHAMBERPRODUCTIONS.COM
WWW.DEADBEATMEDIA.COM
algoma62.bandcamp.com/